Market Calendar Autumn
October
Sunday 15th & Sunday 29th - Caversham Artisan Market, Waitrose Car Park, Caversham (10AM - 3PM)
Saturday 21st & Saturday 28th October - Wallingford Local Producers Market, St Mary-le-More, Market Place, Wallingford (10AM - 12:30PM)
November
Sunday 5th November - Caversham Artisan Market, Waitrose Car Park, Caversham (10AM - 3PM)
Saturday 11th November - Cholsey Market, St Mary's Church, Cholsey (10:30AM - 4:00PM)
Saturday 18th & Sunday 19th November - Goring Craft Fair, Thames Village Hall (10AM - 4PM)
Saturday 25th November - Wallingford Local Producers Market, St Mary-le-More, Market Place, Wallingford (10AM - 12:30PM)
The PrimroseLady's Collections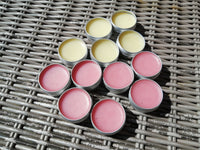 Our Range
A very concise selection is available through our website. Every product contains entirely natural ingredients, each with a different benefit to the body...
Meadowfoam & Rose Lip Balms available to order now.
Lip Balm
Have never used a cleanser that left my face feeling so clean, fresh and baby soft!

Antonia Yim refering to our 'Anti- Aging Cleanser'
Would just like to let you know that I absolutely love your foot balm with menthol. I especially like using it on my heels which tend to be rough - applying the foot balm does wonders, though. It is the most effective footbalm to soften the skin on my heels that I have ever used!

Helga refering to our 'Menthol Foot Balm'
The lip balm is very soothing on dry lips and is not too greasy. Excellent products in bio friendly containers with no plastic packaging.

Melanie refering to our Luxury Rose Lip Balm
This section doesn't currently include any content. Add content to this section using the sidebar.